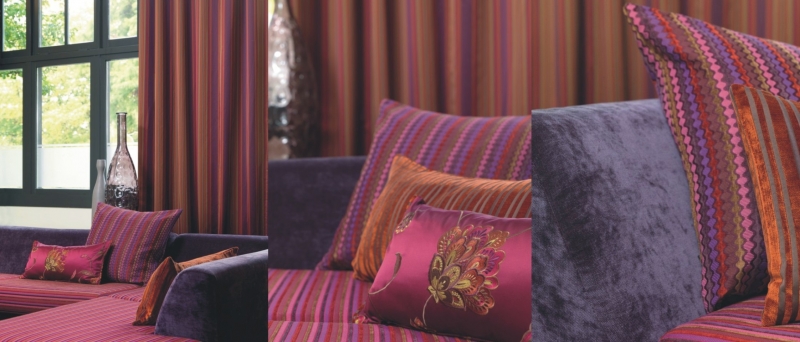 This collection of 8 luxurious designs and qualities is a celebration of luxury, glamour, striking colour and diversity. Elegant satin weaves sit side by side with chunky chenille plains, mosaic-like stripes and patterns mingle with masterfully embroidered florals and delicate, diaphanous sheers add a touch of whimsy.

The Celebration collection explores 5 different colour palettes each with its own unique character and charm. The first colour story is called Hibiscus after the exotic and vibrant flower which is common to tropical and sub-tropical climates. Here rich tones of red, plum and chartreuse combine to create an intoxicating colourway for the brave at heart.

The second colourway in the range, colour Sterling, is bold and sophisticated with elegant silvers and charcoals interspersed with jet blacks and off whites for a dramatic combination. Following on from this, another neutral colour palette is to be found in colourway Natural which exudes calm and elegance with the crisp cream shades off-set by dusty stones and sandy tones.

Colour Orion is particularly interesting right now as we see the resurgence of interest in the blue colour spectrum. This sophisticated colourway is combined with deeper blues and mocha shades as well as delicate dusty blues and putty hues. The final colourway in the collection is called Chic and incorporates moody plums, burnt reds and spices blended together with a delicious chocolaty brown.

The feature design in the Celebration range is undoubtedly Festival with its large and intricate embroidered floral motif. This beautiful workmanship is executed on a luxurious satin quality which is also available as a plain in 50 colours and is called Fame. There is also a classic symmetrical satin stripe, called Jubilee, and this quality and the plain are ideal for use on domestic upholstery and for drapery and accessories. The delicate lustre of these qualities is a result of the satin weave construction and the cotton and polyester yarn content.

Adding a quirky character to the collection are the stripe and wave patterns namely Carousel, Jive and Gala which combine a myriad of colours and weave effects together with a rich velvety chenille yarn. Multi-coloured fabrics such as these are always useful when pulling a scheme together. The contrasting fine and chunky yarns create an intriguing 3D effect in these weaves.

There are finally 2 plain qualities in the collection namely Personality, a rich velvety chenille and Solo, a sophisticated and elegant wide-width sheer which looks like liquid mercury. Each is available in 5 shades to tie in with the colour palettes explored.

This diverse collection offers fabrics for every application, with some being suitable for curtaining and accessories and others being ideally suited to domestic and even contract usage. This is all made possible after rigorous testing and performance evaluation which has been undertaken on each quality.