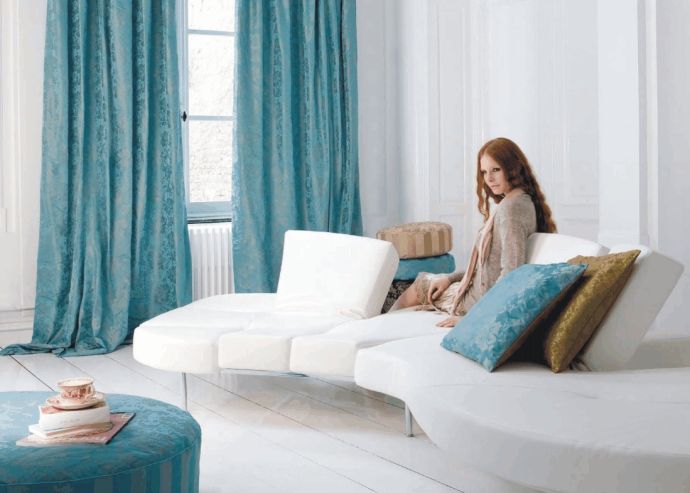 The new Aristocrat collection certainly lives up to its name. Grand damasks, traditional florals and classic stripes combine in this collection of 5 elegant designs which are available in a total of 66 colourways. The range can be divided into 2 sections, one story featuring the 3 designs Nobility, Lofty and Grandeur on a charming slubby silk-like quality and the second story featuring designs Exquisite and Suave on a crisp taffeta quality.
The essence of the collection is undoubtedly the sophisticated faux-silk jacquard look which has been cleverly achieved using polyester yarns only. The benefits are of course enormous with the wonderful dimensional stability which this brings to the fabrics, the superb light-fastness which is achieved and the easy care nature of these products. All 5 qualities can be washed on a gentle cycle at 30°C and can be dry-cleaning using Perchlorethylene. Each of these qualities also pass a host of flame retardancy tests as indicated at the back of the sample book.
The 3-way story comprises designs Nobility, a charming large-scale ornamental floral jacquard and Lofty, a traditional damask and design Grandeur, a classic 2-tone stripe. These designs are suitable for use as curtaining, accessories and even light upholstery due to the construction of these qualities. They each come in 14 colourways ranging from a vast selection of classic neutrals and naturals, to a sophisticated cool shade called Spa and 4 hot and spicy tones called Rustic, Crimson, Tinsel and Gold. These fabrics are all reversible and care must be taken when sending to a third party for make-up.
The second story comprises designs Exquisite, a pattern featuring a formal scattering of floral posies and design Suave, a large and exuberant bouquet of flowers both interpreted in subtle tone-on-tone jacquards. Here the colour palette extends to 12 options on each design and ranges from a myriad of earth and antique tones to a rich and vibrant Crimson, some soft smoky greys and shades of Celadon. These qualities are suitable for use as curtaining and accessories.